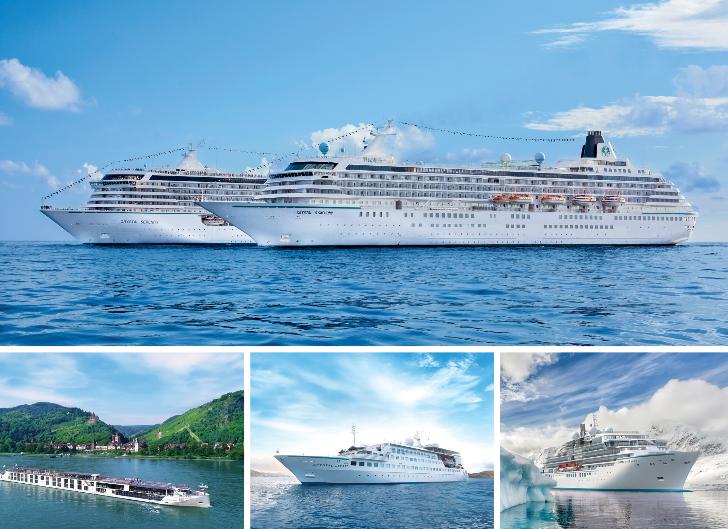 By James Shillinglaw, Feb 22, 2022
Crystal Cruises officially shut down on Feb. 11 as two of its ships were impounded in the Bahamas and employees in the U.S were sent home. But as we all know that won't be the end of the story. Rumors keep flying about just who might buy Crystal's assets or even the brand outright, with former Silversea Executive Chairman Manfredi Lefebvre being prominently mentioned as a buyer (and he even admits he has made two bids).
Many others are speculating about who might buy some individual assets, such as the Crystal Endeavor expedition ship, which was just introduced to the market late last year, as well as four modern river ships in Europe. For travel advisors, however, the big issue continues to be when and if their clients will get refunds and when they might get commission on their Crystal sales.
Now comes a report from LoyaltyLobby.com, a publication we hadn't heard of before, which says former Crystal Cruises CEO Jack Anderson told them that $100 million worth of deposits and final payments by customers is now outstanding and could be lost. LoyaltyLobby.com points out that travel experts have been preaching for years that customers should avoid paying for tickets in cash or cash-like transactions such as check, direct debit or money transfer.
Credit card companies usually hold a large amount of the payments submitted in trust to ensure they wouldn't be left holding a bag of bad debt when a company with large incoming and outgoing sums falters. They are also insured against a big default of a major customer which enables them to provide service- and product guarantees as well as fraud protection to their cardholders. Bloomberg reports that cash-paying customers and those with cruise credits could now be once again the ones left in the lurch with no refunds of any sort while credit card customers will be able to file a chargeback.
LoyaltyLobby.com points out that abandoned by its parent company Genting Hong Kong Ltd., Crystal now leaves a trail of debt to travelers, who had put down payments and deposits for sailings into 2024; to travel advisors, who are owed commissions; to employees in offices; to crew still on ships; and to unpaid vendors. While $4.6 million in outstanding fuel bills were central to Crystal's demise and caused the seizure of there of its ships, Genting Hong Kong's insolvency was triggered by its inability to cover more than $3 billion in loans in took out to acquire two German shipyards.
"Genting HK effectively washed their hands of Crystal when they filed liquidation in Bermuda," Anderson told Bloomberg. Anderson served as president of Crystal until the company dissolved its operations on Feb. 11. "At that point our relationship with Genting was effectively severed, and we were cut loose to fend for ourselves."
Consumers and travel advisors now have few if any ways to get their money back. Crystal is currently responsible for more than $100 million in customer deposits and payments, all held in reserve accounts under the control of various credit card companies. Most future itineraries were paid by credit card, which will make for easier refunds, according to Anderson.
Customers who paid in cash may not be as lucky, and those who had paid fully for sailings that were cancelled in 2020 or 2021 but rolled those into new Future Cruise Credits will now find those FCCs are worthless. Beyond that, travel advisors are owed 10 to 16 percent in commission on each itinerary they booked. Good luck getting that.
On Feb. 11, the last day the Crystal office was operational, Anderson says it had no liquid cash that cruise line could use to keep operating. "Ultimately, we ended up with a bank account of zero," he said.
So Crystal cruises currently owe over 100 million dollars to guests in deposits and final payments. The majority of these payments will likely be returned to guests but they might need to file for a chargeback and the earlier the better. As always, those who paid for their upcoming cruises by credit card will be the lucky ones. According to the above-quoted Bloomberg article quoting former CEO Jack Anderson, the deposits are held by credit card companies in trust accounts and are eligible for refunds.
Anderson estimates 75 to 80 percent of customers paid for their cruises by credit card, meaning those customers would receive refunds. Customers who were already on a cruise when Crystal faltered and who were disembarked in Bimini could also file for a chargeback on their credit cards, since there won't be any refunds coming automatically.