By Jack Guy, CNN
(CNN) The deaths of at least five tourists in a volcanic eruption in New Zealand have raised questions over whether tour companies are taking enough precautions to keep visitors safe — and whether tourists are aware of the risks.The eruption took place on White Island, off New Zealand's north coast, on Monday afternoon local time. The volcano is a popular destination for visitors to the area, with tour groups heading off on boat trips every day.It is described as "one of the world's most accessible active volcanoes" on the website of White Island Tours, which offers ocean cruises nearby, as well as guided tours depending on the volcanic alert level.
Monday's blast comes after a hiker was killed in July when Italy's Stromboli volcano — one of the most active volcanoes on Earth, and a popular visitor attraction — was rocked by a series of explosions, highlighting the dangers of volcano tourism.Bill McGuire, emeritus professor of geophysical and climate hazards at University College London, said White Island was very similar to Stromboli, with seismic activity taking the form of small blasts rather than major eruptions."Because (White Island) is only a couple of kilometers across, however, visitors are close to the vent and under threat even if there is a small explosion," McGuire said.
Evidence of 'unrest'
Steven Sherburn, a vulcanologist from GNS Science, which monitors volcanic activity in New Zealand, said there had been evidence of "unrest" in the volcano for weeks — but people still continued to visit."There was nothing particularly unusual about today," he said of the activity prior to Monday's eruption.University of East Anglia geophysics lecturer Jessica Johnson said "it is very difficult to say whether tourism should be allowed there.""The most that the scientists can do is continue to monitor the volcano and issue information when it is available," she added.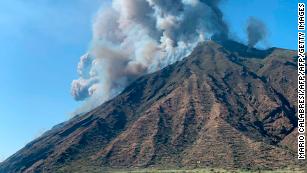 Volcanic eruptions rock Italian island of Stromboli, 1 hiker is killedPaul Quinn, chairman of White Island Tours, the company which runs trips to the volcano, told CNN that according to information provided by GNS, seismic activity was at level 2 on the morning of the event, meaning visitors could still be taken to the island."We operated within our guidelines," Quinn said. "There was nothing that signaled there was going to be an eruption."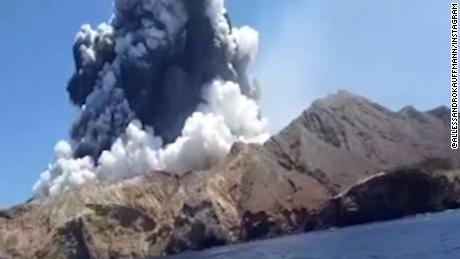 'You can never be totally safe'
Geologist Alan Clewlow, who has been running specialist tour operator Volcanic Experiences for more than 20 years, said White Island was the most dangerous volcano he had been to.Clewlow, who leads trips to volcanoes around the world, said he was offered a gas mask and hard hat when he visited the island, and was warned about its eruption status."You can never be totally safe with an active volcano," he said. "We follow the guidance of local guides and authorities."