DESTINATION & TOURISM DONALD WOOD  JULY 30, 2019
Update: July 31, 2019 at 11:55 a.m. ET
While officials continue to monitor Hurricane Erick, Hawaii Governor David Ige said the state's bigger concern is Hurricane Flossie.
According to The Associated Press, Governor Ige said he is considering whether to make emergency proclamations for Hawaii as the storm moves closer. Officials also fear for demonstrators and law enforcement officers on Mauna Kea.
BREAKING: #Flossie is now a hurricane. Watch our live coverage for the latest developments and effects on Hawaii.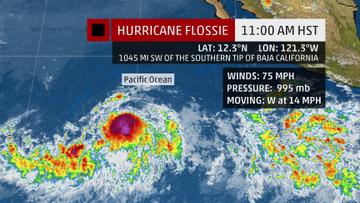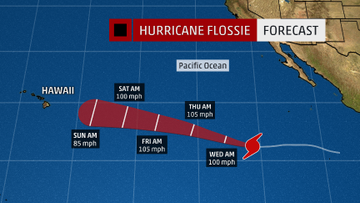 1081:54 PM – Jul 30, 2019Twitter Ads info and privacy50 people are talking about this
The protestors have blocked a road to the dormant volcano to prevent the construction of a giant telescope at the summit, which is considered sacred by some Native Hawaiians.
"For the safety of all involved, we want to deescalate activities," Ige told reporters.
---
Travelers planning a trip to Hawaii in the coming days should be keeping their eyes on two storm systems moving through the Pacific Ocean.
According to KHON2.com, Hurricane Erick continues to intensify as it moves west at around 18 miles per hour. The storm will slow its pace through Thursday as it builds strength, with maximum sustained winds currently registered at an estimated 75 miles per hour.
Erick is forecasted to weaken Thursday and Friday as the hurricane passes south of the Hawaiian Islands. While the storm isn't expected to make landfall, officials on the Big Island are expecting increased wind gusts of up to 110 miles per hour, heavy rain and storm surge of up to 16 feet.
Hurricane Erick and Tropical Storm Flossie bearing down on Hawaii.
32:20 AM – Jul 30, 2019Twitter Ads info and privacySee Scott C'one's other Tweets
While it remains unclear how much travel will be impacted by Hurricane Erick, there is another storm continuing to build strength right behind it. Tropical Storm Flossie is currently moving west across the Pacific at around 17 miles per hour.
Flossie is being measured with maximum sustained winds near 65 miles per hour with higher gusts. Over the next several days, the storm will continue to strengthen before likely becoming a hurricane on Tuesday.
The storm system is then expected to weaken back to a tropical storm over the weekend before possibly passing over or to the north of the Hawaiian Islands early next week. Travelers heading to the tropical paradise should be aware of the potential dangers associated with both storms.