Home
Travel Health
Public health expert assures cruise sellers that omicron surge is subsiding
By Johanna Jainchill |Jan 13, 2022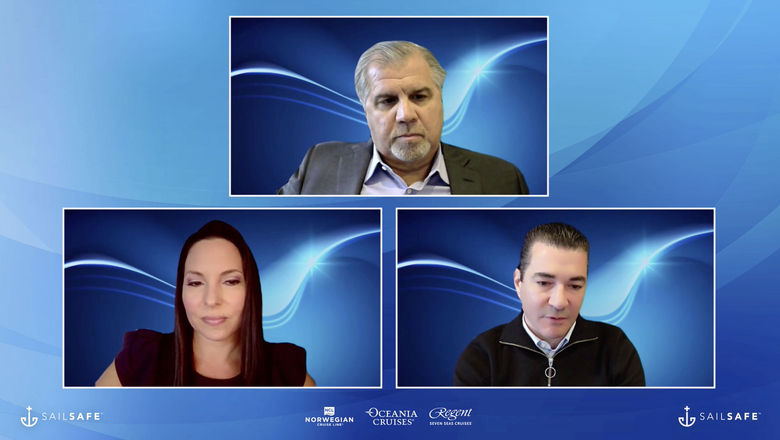 Dr. Scott Gottlieb (lower right) said that in another two weeks, the level of omicron infection will "come down to a sufficiently low level that is going to be palpable." He was joined online by NCLH CEO Frank Del Rio and Regent Seven Seas Cruises sales and marketing chief Andrea DeMarco.
Consumer confidence will resume within weeks as the omicron surge begins to subside, former Food and Drug Administration commissioner Dr. Scott Gottlieb told travel advisors during a virtual conversation on Thursday hosted by Norwegian Cruise Line Holdings.
Gottlieb is also the chairman of Norwegian Cruise Line Holdings' SailSAFE Global Health and Wellness Council.
"This is an epidemic that's starting to peak in those early outbreak states," Gottlieb said of omicron. "You're seeing cases come down week over week. You're seeing a declining epidemic curve."
Gottlieb told NCLH CEO Frank Del Rio and Regent Seven Seas Cruises chief sales and marketing officer Andrea DeMarco that "in another two weeks, you're going to see the level of infection come down to a sufficiently low level that is going to be palpable."
Dr. Scott Gottlieb
"It's going to be evident to people, and I think you're going to see people's confidence resume about going out and trying to plan for the future," he said. "It's going to be just much more apparent to people that this epidemic wave is going to pass."
As to whether another variant can unexpectedly strike the way omicron did, Gottlieb said that given how much immunity the population has now, between high vaccination rates and the pervasiveness of omicron, most people believe that omicron will be the "the last major wave of infection."
"You're going to have a sufficient wall of immunity that you're not going to see this virus spread in the same way, and this will become a more manageable respiratory pathogen," Gottlieb said.
Gottlieb predicts that by spring, virus prevalence will be very low and get to "a point where there's so little infection we stop recording it and stop actually measuring it. I wouldn't be surprised to see us get below five cases per 100,000 people per day in most parts of the country."
At that point, he said, people will be looking to "reclaim things that are important to them — leisure activities and being able to plan vacations with family is something that's very important to people."
Del Rio said that travel advisors are currently in Wave season and selling cruises now for the summer. He asked Gottlieb if they can feel confident selling cruises to Alaska and to Europe this summer.
"The most likely scenario is that we're going to have very low prevalence this summer and fall, and I think people are going to want to get back to doing the things that they enjoy," Gottlieb said. "I think come two or three weeks, when we see when it's really apparent that this omicron wave is substantially declining all across the country, consumers are going to start planning again for the future in a more wholesale fashion."
When asked when the pandemic would officially end, he said it would be gradual and would have a lot to do with when consumer confidence is regained.
"I think that therapeutics are going to have a big role in helping people feel more confident about going out," he said. "So the question is when will that point in time arrive when psychology just sort of firmly changes across society for the vast majority of people? I think you're already seeing that transition. It's hard to declare the end of the pandemic now or let your guard down now when we are literally in the throes of the biggest wave of infection that we've had. We probably have two or three weeks left to it.
"When we get past this big wave of infection, when prevalence starts to decline, I think consumer confidence is going change very quickly."