Home
Cruise Safely
Omicron makes waves right before cruise industry's busy booking period
By Arnie Weissmann |Dec 30, 2021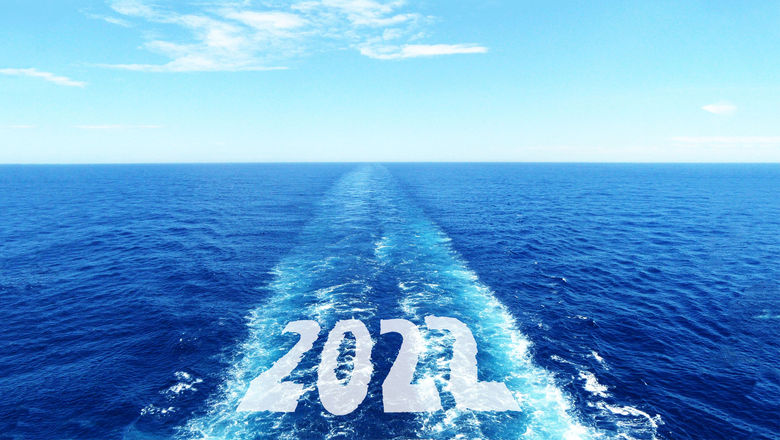 Cruise lines face the challenge of being turned away from ports should there be infections on the ship. Photo Credit: Lais Monteiro/Shutterstock
A cacophony of negative cruise reporting in consumer media — a CDC warning, passengers testing positive for Covid, ships being refused entry to ports — comes at a particularly bad time for the industry: the week before Wave season historically goes into high gear.
Marketing for Wave, the three-month period when roughly half of annual cruise bookings are made, typically begins in December but historically ramps up in January, February and March.
This year may be different.
"This has been the most negative media attention [about cruising] since March of 2020," said C. Patrick Scholes, an analyst for Truist Securities. "And it really falls at a very inopportune time for the cruise lines."
Although some brands have been conspicuous in their absence in promotions, not all are sitting on the sidelines. Carnival Cruise Line launched its "Funderstruck" campaign, with its platform message, "Choose Fun," in mid-December. Video of excited cruisers enjoying various features exclusive to Carnival ships are playing on network TV, social channels and even on in-vehicle taxi screens.Play VideoChristine Duffy, Carnival Cruise Line president, and Jeffrey Straus, president of Countdown Entertainment, rehearse the countdown that will light the Times Square New Years Eve ball and send it upwards shortly after dark. The ball will drop after a similar countdown just before midnight on Dec. 31.
In stark contrast to the constant stream of pandemic news bombarding consumers today, the campaign focuses on "unapologetic fun together with those you enjoy spending time with most," according to a positioning statement released in mid-December, prior to the full onslaught of the current wave of infections.
Undeterred by news of Covid's spread, Funderstruck ads aired on ESPN and ABC during the National Basketball Association's Christmas Day games, and Carnival is a sponsor of ABC's broadcast of the Times Square New Year's Eve celebration.
Carnival's president, Christine Duffy, is still on course to push the button that lights the ball that descends at midnight. In addition, 30,000 mittens with the Carnival Funderstruck logo will be handed out to revelers.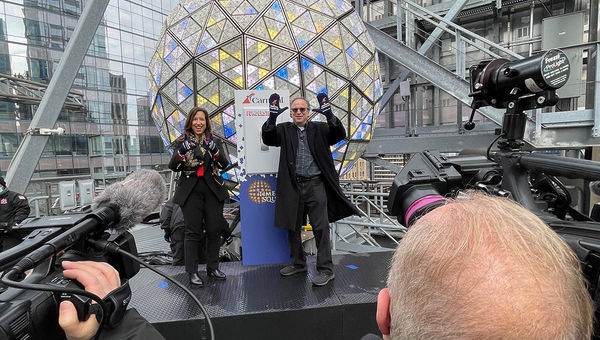 Carnival Cruise Line president Christine Duffy will flip the switch to light the Times Square New Year's Eve ball on Dec. 31. With her at a rehearsal on Dec. 30 was Countdown Entertainment president Jeffrey Straus, showing off the "Funderstruck" mittens Carnival will distribute to the crowd in Times Square. Photo Credit: Arnie Weissmann
Celebrity Cruises also took advantage of a high-profile Big Apple visual by securing product placement in Saks Fifth Avenue's popular holiday window displays at its flagship store in Manhattan. Lisa Lutoff-Perlo, CEO of Celebrity Cruises, told Travel Weekly that it's "business as usual, including a ramp-up in spend for Wave."
Kara Wallace, Royal Caribbean International's vice president of marketing for North America, said that the line was closely monitoring consumer sentiment and behavior around travel and cruise and has not changed Wave marketing plans at this time.
New variant, same precautions
Wave considerations aside, the source of industry headaches is, of course, the highly transmittable omicron variant.
Dr. Stephen Ostroff, an infectious diseases specialist who was chief scientist and acting director for the Food and Drug Administration and a 20-plus-year veteran of the CDC, advised Royal Caribbean Group and Norwegian Cruise Line Holdings as a member of their Healthy Sail Panel in 2020. He is currently on a National Academy of Sciences committee examining quarantine systems, including for cruise ships.
The goals during omicron haven't changed, he said. "One, keep the virus off the ship. Two, limit spread of the virus on the ship and three, reduce the potential for serious illness among those infected." But with omicron, he said, "It is more challenging to achieve these goals."
He said he believes the best course forward is to "only have boosted people onboard, including crew," adding, "Although unpopular, the use of masks in certain crowded settings needs to be considered, even with full vaccination and boosting."
But overall, he said he believes cruise lines are in a much better position than when the Healthy Sail Panel released its recommendations in 2020. "That is due first and foremost to the vaccines, but also having better air handling systems, better medical care and more availability of tests."
New oral antivirals are an additional enhancement that weren't available until recently, he said.
Itinerary uncertainty
Lines also face the challenge of being turned away from ports should there be infections on the ship. Dr. Ostroff said he believes that "there may have to be itinerary adjustments based on where and when waves of infection occur.
"I'm hopeful that while we will have a very intense wave of omicron in the near term, the wave may be shorter than what we've seen with other variants, given what we've seen in South Africa."
Cruise analyst Scholes said he believes that port closures present a fundamental challenge to the lines, particularly during Wave. Acknowledging that many things are beyond the cruise lines' control and that they're doing the best they can in the circumstances, he nonetheless wonders, "How do you advertise? 'We've got a great itinerary, but oh, by the way, there's always the probability that the port may cancel at the last minute.'"
Addressing that concern, Roger Frizzell, senior vice president and chief communications officer for Carnival Corp., said, "We realize this variant is new to our destinations, so there is a natural learning curve. We will continue to work together.
"Our health and safety protocols have been designed purposely for the potential of new variants," he continued. "We have experience on our side, since we have been successfully sailing globally with our enhanced protocols for some time now. We are increasing the frequency of our crew testing, which was already extensive. Our protocols also are reviewed and updated frequently to account for any new medical or scientific learnings."