Cruiser Dies During Canoe Excursion in Haines,
Alaska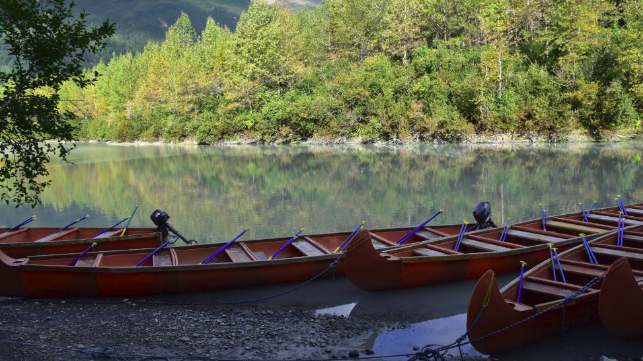 On Monday, a cruise ship passenger perished during a canoe excursion near Haines, Alaska, when the boat overturned. Ten other occupants made it safely to shore.
Las Vegas resident Steven Tod Willis, 50, boarded a commercial canoe tour on Monday morning, accompanied by his wife, Rev. Thea Racelis. The boat's route took them into the Chilkat Inlet near Glacer Point, about nine miles outside of Haines.
At about 1039 hours, the Alaska State Troopers received a call that the canoe had flipped, putting all 11 people on board into the water. A Coast Guard Jayhawk helicopter crew responded to the scene and found 10 people safe and unharmed on shore. The excursion company had dispatched a small boat to rescue Willis, who was still in the water, but it was unable to reach him. A rescue swimmer from the Jayhawk recovered Willis, and the helicopter brought him to Juneau. First responders' efforts to revive him were not successful and he was pronounced dead at about 1250 hours.
The remaining passengers – all cruisers, from three separate ships – were taken safely to Pyramid Harbor in a company-operated boat.
The cause of the casualty is under investigation. Conditions on scene that morning included winds of seven miles per hour, two-foot seas and water temperature of 57 degrees Fahrenheit, according to the Coast Guard. River conditions were reported to be higher than usual. All 11 of the boat's occupants were wearing life jackets, including Willis, but none had dry suits, according to the Alaska State Troopers.