Home
Travel Safety
A New Travel Memoir Details What a Travel Writer Experienced During the...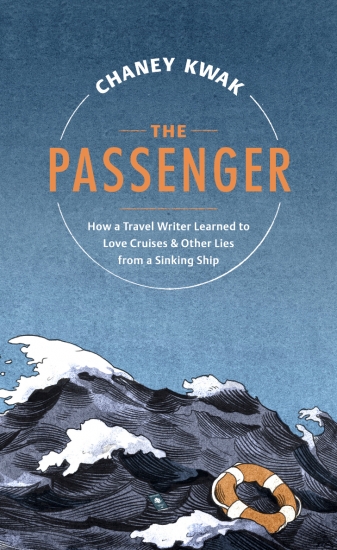 By  James Shillinglaw, Mar 26, 2021
We don't usually report news about new books in this space, even travel books, but this one caught our eye for some obvious reasons. Award-winning Korean-American travel writer Chaney Kwak has written his first memoir, "The Passenger: How a Travel Writer Learned to Love Cruises & Other Lies from a Sinking Ship."
Published by Boston-based Godine, the moving and comical memoir hits shelves on June 8, 2021, but is available now for pre-ordering on Amazon. While Kwak was on assignment aboard the Viking Sky, the luxury cruise ship suffered a catastrophic engine failure on March 23, 2019. As 50-foot swells and 45-mph gales pushed the 1,373 people on the disabled cruise ship toward the rugged Hustadvika coast of Norway, Kwak watched the drama of the helicopter evacuation unfold in real life—and on social media.
"The Passenger" takes readers for on a journey from the Norwegian coast to the South China Sea, from post-WWII Korea to pandemic-struck San Francisco. Kwak weaves his personal experience into events spanning decades and continents to explore the serendipity and the relationships that move us—creating a book that is perfect for readers who love to discover the world through the eyes of a perceptive and humorous observer.
The June 8 release date coincides with this year's United Nations World Oceans Day, and the hardcover memoir immerses home-stuck travelers in lyrical descriptions of Norway's fjords and the open ocean before transporting them to the gripping scene of a luxury ship in distress. Kwak's first book also explores issues of race, art, global inequality and relationships.
"The Passenger" arrives as travelers' demand for cruises is peaking at an unprecedented level after a year-long pandemic that has grounded the entire world. Silversea Cruises broke its booking records for 2021 by selling out its 139-day itinerary on the day tickets went on sale. In other news, HBO is releasing a new cruise documentary on March 30 that details the COVID-19 outbreak aboard the Diamond Princess in the early days of the pandemic.
Around the world, Kwak's travel memoir has already amassed praises from celebrated writers: "A gripping story of survival, capitalism, maritime history—nothing less than a very modern adventure, and an instant classic of travel writing," writes Alexander Chee, author of "How to Write an Autobiographical Novel."
"A cruise gone terribly wrong frees a veteran travel writer to tell the truth—and Chaney Kwak, mordant and urbane, makes the most of the opportunity," writes Ted Conover, author of "Newjack" and a Pulitzer Prize finalist.
"A total page turner, a rare joy of a book. I want to read it again," writes Paul Lisicky, author of "Later: My Life at the Edge of the World," which was a 2020 NPR Best Book.
Kwak's memoir chronicles the 27 hours following the engine failure, offering intimate portrayals of crew members and passengers, as well as interviews with rescue workers, a tongue-in-cheek history of lifeboat disasters, and the author's very personal story.
"Last year's pandemic lockdown helped me see the incident in a different light," Kwak says. "When I got past the sensational aspect of what I experienced, I began to see how the sinking ship in my story was not the Viking Sky, but my own life."
Kwak has been traversing the globe for more than a decade to write about food and travel. His work appears in such newspapers as The New York Times and The Wall Street Journal, as well as magazines such as Afar, Condé Nast Traveler, and Travel + Leisure. A winner of the Key West Literary Seminar Emerging Writer Awards, he has received scholarships from prestigious literary institutions such as the Bread Loaf Writers' Conference. He teaches nonfiction writing at the Stanford Continuing Studies program and lives in San Francisco. For more information, visit www.chaneykwak.com.
"The Passenger: How a Travel Writer Learned to Love Cruises & Other Lies from a Sinking Ship" is available for preorder for $18.95 (hardcover) and $9.99 (e-book) b clicking on Amazon The Passenger.